We need you to CONTINUE to contact Governor Branstad's office and remind him why it is important he veto the cuts to the Leopold Center. Let's get those phones ringing off the hook Monday morning!
Letting the bill sit on his desk is not going to make us forget how important this Center is to us!
Call Governor Branstad, even if you have called before! (515) 281-5211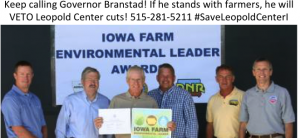 You can also submit comments (and more comments) here: https://governor.iowa.gov/constituent-services/register-an-opinion.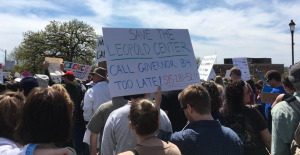 Remind him that he signed the bipartisan Groundwater Protection Act into law in 1987. Why undo the good work of this legislation now? The Leopold Center's work partnering with local food teams, new and beginning farmers, and farmers trying new practices is NOT over. Neither is its work training the next generation of scientists and community leaders.
Our ally Iowa Farmers Union issued a great action alert that you can share with your friends and family.